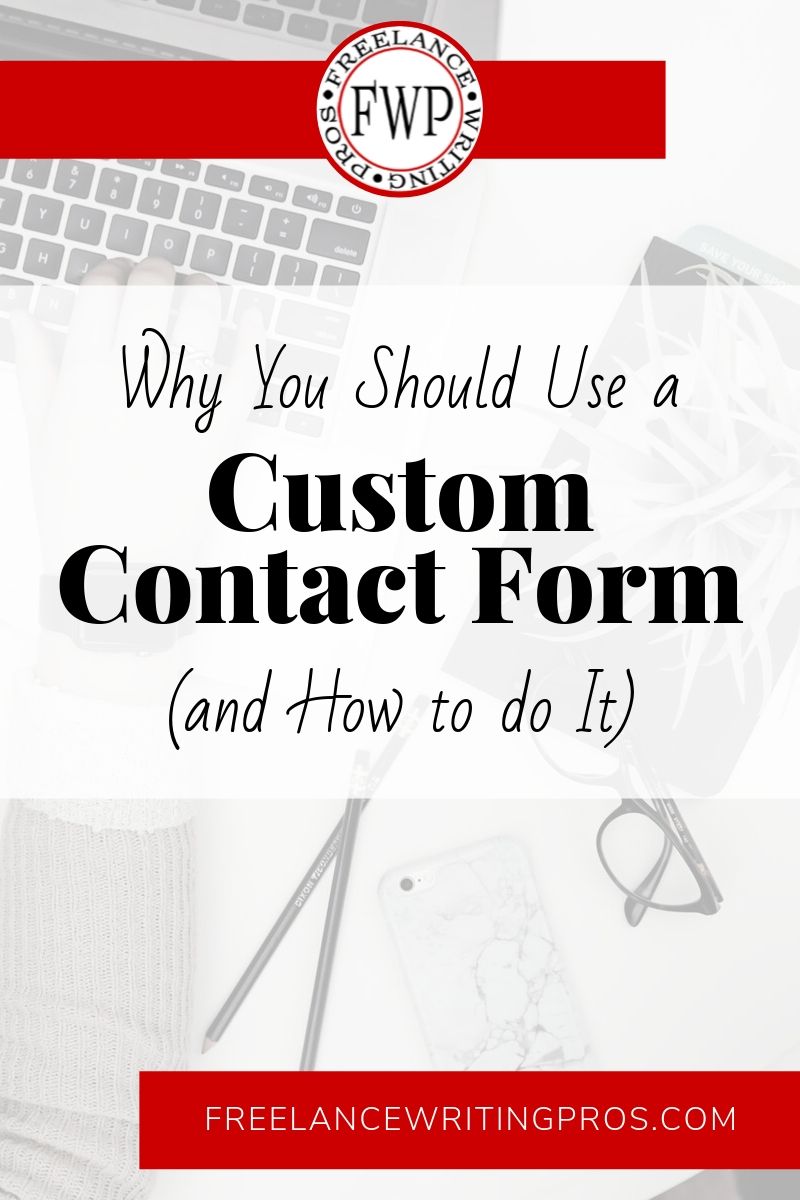 If you have a freelance writer website to help attract prospects and convert leads, you should have a contact page. On that page, you might have several different ways potential clients can reach out to you. But are you making the most of it with a custom contact form?
If your contact form is the generic sender-subject-message style, or if you don't have a contact form at all, you're not.
Instead, why not turn your contact page into more of a lead-generating machine by converting your contact form into a more advanced quote request or project brief form?
This is when you add fields that let prospects talk about their project up front — what they want, what deadline they have in mind, and what their budget is for example.
Why Use a Custom Contact Form?
The benefit of a custom contact form for lead-gathering is you can pre-qualify prospects before you take the time to deliver quotes. Prospects don't always know what kind of information you need when they first reach out to you. A quote-oriented contact form fixes that.
You won't get into a lengthy back-and-forth discussion about project details only to find out they can't afford you or they have unrealistic deadline expectations. You'll know about these issues up front, and you'll be able to turn down the gig, refer the prospect to another writer, or figure out how to approach the topic for negotiations.
Emails from prospects increased for me by nearly 30% when I made the change to using a custom contact form on my own business site years ago, and I've never looked back. In my case, I set up a project brief form asking for estimated turnaround times, word counts / page counts, and budgets.
If you're worried about people wanting to send a more general email being turned off by your advanced contact form, don't. You can always include your email link on the page as well for more general inquiries.
While I haven't done this myself, I have service-oriented clients who take another approach — having a custom contact form on a separate "Request a quote" style page and a more general one on their basic "Contact" page. So that's another option to consider, and it gives you flexibility in which you direct people to in each page's (and blog post's) call-to-action.
What Your Project Brief or Quote Request Form Can Include
Here are some examples of what you might include in your project brief or quote request form. You don't have to use all of them. And remember, you can always make certain fields optional.
Prospect's name
Prospect's company
The client's field or industry (more relevant if you only work in specific industries)
Project type / title
Project scope / details
Estimated deadline
Estimated budget
Desired page count / word count / article count
How the client found you
WordPress Custom Contact Form Plugins
One of the plugins I've used to build custom contact forms on WordPress is Contact Form 7. I stopped using that tool years ago, but it's more than flexible enough to handle this kind of form.
Now I prefer Formidable Forms. While that's a free version that can handle basic things like contact forms, for most sites I use Formidable Forms Pro, which would also be a good option for this if you already have it. I don't recommend the premium version if this is your only use case though. That's more for advanced projects like the freelance writing job board and writers' market directory I host over at All Freelance Writing.
Are custom contact forms necessary on your professional site? No. But they're a simple addition that can increase leads and save you time during initial contacts with new prospects. As long as you keep them reasonable in length and simple to use (like not making all custom fields mandatory when they won't apply to every prospect), there's no downside.
---
This post was originally published on August 5. 2014 at All Freelance Writing. It has since been updated for Freelance Writing Pros readers.
Get more content like this in your inbox.
If you enjoyed this post, subscribe today so you never miss future post updates. Plus, you'll get weekly advanced marketing, PR & business tips for experienced freelance writers in the Freelance Writing Pros newsletter.