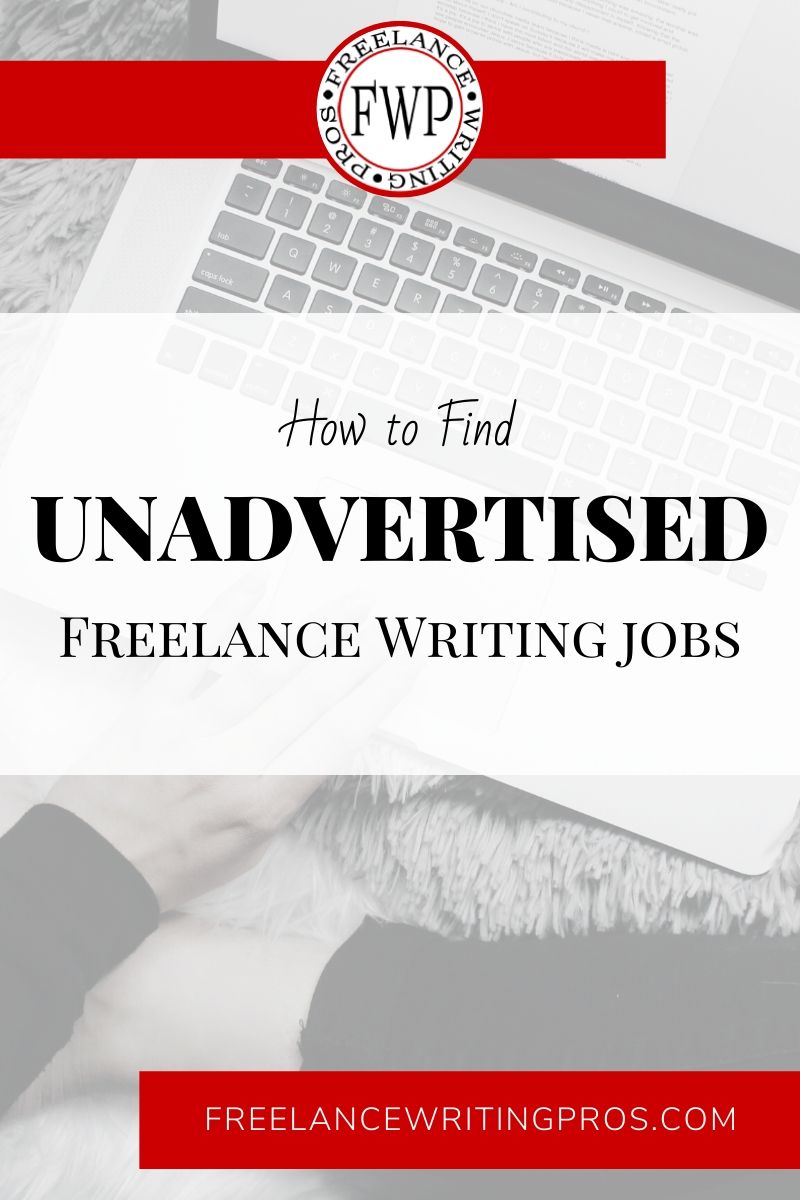 When I hear from newer freelance writers, they ask me one question more than any other: "Where can I find high paying freelance writing jobs?" My response is usually along the lines of: "Most of the best gigs aren't advertised, so you don't really 'find' them; you have to help them find you!" That becomes even more true as you progress through your career and seek even higher-paying opportunities.
There's no magic pill here — no single tool, tactic, or place that's going to guarantee you ideal gigs. But you can create a marketing strategy that opens more of these doors. So let's explore those unadvertised freelance writing jobs and three ways you can find more of them.
Why High Paying Freelance Writing Jobs Are Often Unadvertised
As a freelance writer, unadvertised jobs can be frustrating. Wouldn't it be great if they were all available on your favorite job boards or in a feed to your inbox?
Let's look at it from the client's perspective though. Why don't they post an ad?
Having hired hundreds of freelancers over the years both for my own business and on behalf of clients, I fully understand why so many don't. It could be for several reasons, including:
They don't have time to deal with a huge number of queries (many of which will be unqualified).
They'd prefer to ask for referrals from people they trust.
They don't even realize yet that they need to hire a freelance writer (or editor).
The good news? While those things might stop gigs from being advertised, they don't stand in your way of landing them.
How to Get Unadvertised Freelance Writing Jobs
While you can use the three tactics below at any stage in your freelance writing career, more experienced freelancers like you are at an advantage. You already have a professional reputation. You've been building a professional network for years. You (most likely) already have a web presence. In other words, you have less ground work to do.
Here are three tactics you can use or combine to find more high-paying unadvertised freelance writing jobs:
Attract them.
When the gigs you want aren't out there for you to find, it's vital that you are easy for prospective clients to find instead.
Build your professional platform. Expand your network. Improve your visibility. All of these things matter, and they make you easier for potential clients to find when they're ready to hire a writer.
Ways to Attract Unadvertised Freelance Writing Jobs
Need some specific ideas? Try these:
Get to know your colleagues.
Get to know people in your target market, even if they're not your ideal client themselves (they might know some).
Start an authoritative blog your ideal clients would want to read and subscribe to.
Start a podcast.
Write a report.
Write an e-book.
Get interviewed.
Be active in niche communities.
Focus on SEO.
Make sure that when someone is looking to fill an unadvertised freelance writing job and they're searching for prospects they find you. Make sure when a client or colleague is asked to refer someone for a project in your specialty area they think of you first. You don't have to do everything, but do something along these lines.
There's no feeling quite like knowing you don't have to seek out gigs because clients are showing up on your virtual doorstep all on their own.
Search for them
Just because a company's freelance writing jobs are unadvertised, it doesn't mean job boards can't help you find them.
Find Unadvertised Freelance Writing Jobs on Job Boards
Visit your favorite job board, like Indeed.com. Go for a large general one here rather than niche job sites. Then do a search for "freelance writers." Make sure you aren't limiting your search by location too much (search at the country level or worldwide given that most freelance writing work can be done remotely).
Forget about looking for ads for freelance writing jobs themselves. Instead, keep an eye out for ads for full-time editors. If those ads are showing up in a search, "freelance writers" should be mentioned in the ad, usually noting the editor would be responsible for recruiting or managing those freelancers.
Guess what. Now you know that company hires freelance writers even if they never post ads to that effect. Prepare some pitches.
Find Unadvertised Freelance Writing Jobs on Google
You can do similar by using custom Google searches to find new markets. Search for terms like "[niche] writers' guidelines." A popular one for blogging markets is to search for a "write for us" page.
If you find too many results, or they aren't quite what you're looking for, narrow it down. Add the word "pays" or something similar if you want a better chance of weeding out unpaid markets. Or if you have a target rate, add that to your search string too.
There are plenty of public leads for high-paying gigs if you know where to look.
Ask for Them
Sometimes getting an unadvertised freelance writing job is as simple as asking. Magazine writers do this all the time. They query publications even if they're not directly soliciting a specific type of piece at any given time.
You don't always have to use a formal query process though. Just ask your existing clients if they need something done.
For example, if you wrote a holiday newsletter for a client last year, reach out to see if they'd like to do the same this year. Or suggest similar projects aligned with other occasions that might make sense for their business.
If someone hires you to write blog posts for their site, you might pitch additional content to be used for content marketing so they benefit from a consistent voice. That might mean guest posts they can pitch to third parties, content for their social media accounts, or longer-form content that complements your blogging.
Notice a site filled with grammatical errors in an industry where it's probably costing them business? Mention it (tactfully), and you could create a job for yourself that the client didn't even realize they needed. While I don't do this much anymore, I've had great success in the past by pitching non-US B2B companies building a web presence targeting US-based companies.
You can also always ask existing clients for referrals. Chances are at least a couple of them will know good prospects. But they might not think to refer you until you ask.
You don't need to wait around on perfect gigs to be advertised. And you don't need to stick to traditional magazine-style query-based marketing. There are more high-paying unadvertised freelance writing jobs out there than you probably realize. My preference is to attract the right kinds of clients rather than pitching them. But when you broaden the way you seek out opportunities, either can be effective. Consider adding one or more of these tactics to your overall marketing strategy and see if they open some new doors.
---
This post was originally published on April 28, 2009 at All Freelance Writing. It has since been updated for Freelance Writing Pros readers.
---
Get more content like this in your inbox.
If you enjoyed this post, subscribe today so you never miss future post updates. Plus, you'll get weekly advanced marketing, PR & business tips for experienced freelance writers in the Freelance Writing Pros newsletter.