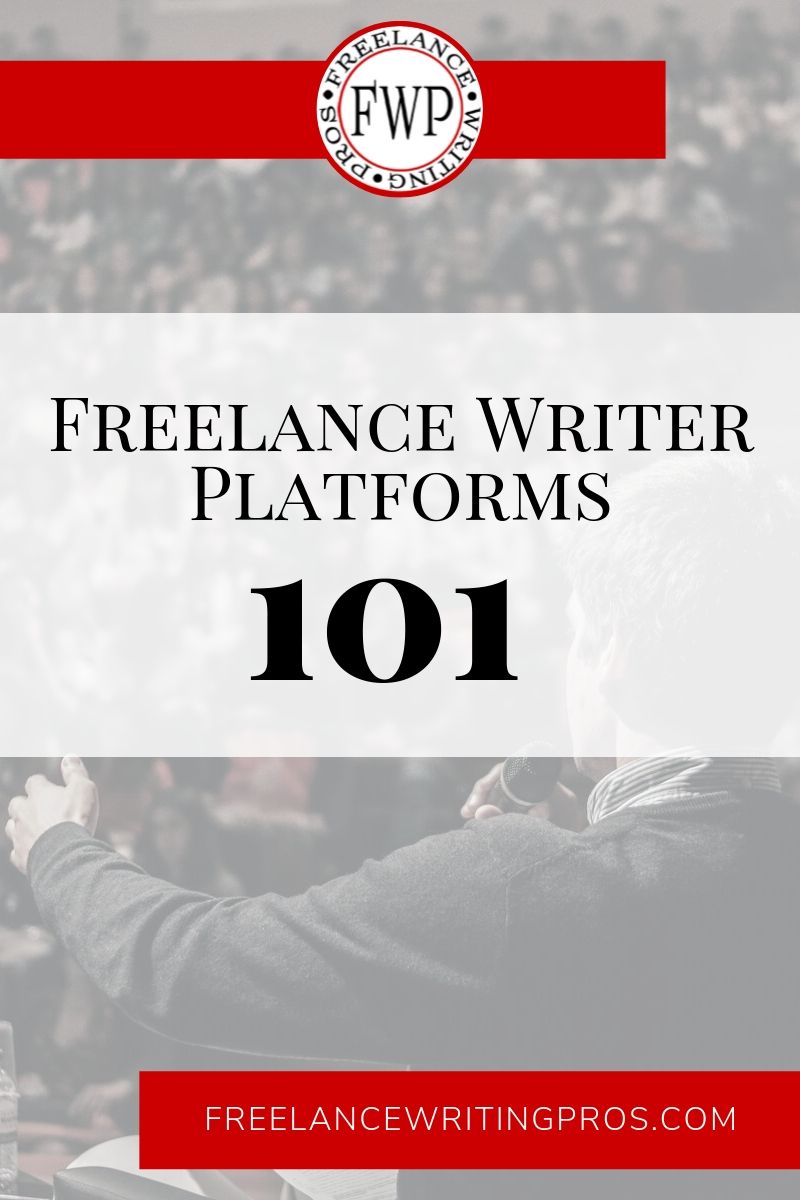 You've probably heard of writer platforms, especially when it comes to authors. Or you might be familiar with professional platforms of consultants. But what specifically are freelance writer platforms? And do you need one?
Whether you're looking for ways to refresh your freelance writer platform or you've never thought about it and want to get started, let's explore the basics of what they are, why you should actively build one, and how you can do that.
What are Freelance Writer Platforms?
Think of freelance writer platforms as a virtual stage of sorts.
You have a target audience (as a freelancer, that would include current clients and prospects). You want their eyes, and attention, on you. Your professional platform is the combination of tactics you use to get, and stay, in front of your target audience.
It's that simple. Rather than focusing on finding new gigs, your platform is about you being found. It's about your reputation, your appeal, and being prospects' top choice in who they'd like to work with.
A professional platform can't build expertise for you. But it should showcase the expertise you've built over years in your specialty, whether that's focused on a niche or certain project types.
Why Freelance Writers Should Build a Professional Platform
When you have a strong professional platform, eyes are already on what you're doing. You don't have to spend much, if any, time seeking out new prospects. They come to you.
When your platform is strong enough, you can rely on this completely for new leads. Or you might opt to combine it with pitching your ideal publications. Either way, a strong platform makes freelancing a much more stable source of income.
Benefits of Having a Strong Freelance Platform
Let's break that down further. Here are some of the specific reasons you might want to start building your professional platform, or improving what you've already built.
You aren't at the mercy of what's being advertised on any given day.
You don't thrust yourself into a large pool of writers (who often compete with a race to the bottom on pricing) applying for a single gig. In other words, there's less competition for each freelance writing job this way.
Clients come directly to you instead of you pitching them and waiting around on a response.
Prospects who come to you as a result of your strong platform rarely bicker over professional rates, especially when you publicly disclose them.
When you build a solid writer platform, chances are good you'll eventually have more inquiries than available time. That gives you the ultimate freedom of being able to pick and choose the best or most interesting projects and turn down the rest.
Many of the things you'll do to build your writer platform will actually make money for you directly. That's in addition to any freelance projects you land. In other words, you can essentially get paid to market your own services. That's something an over-reliance on pitching won't do.
If you're the kind of writer who hates pitching, your writer platform is incredibly valuable. It does the heavy lifting for you — attracting prospects and convincing them to get in touch with you.
If you love pitching, a strong platform doesn't mean you have to stop. It just gives you more options.
How to Build Your Freelance Writer Platform
Your professional platform isn't just one or two marketing tactics. It requires a broader strategy.
This will often include your professional website and how you keep prospects coming back (so you keep your name in front of them). For example, you might use a client-focused blog or email list. And it would include any social media platforms you use for business. It includes your search engine visibility. Your products. Your publications. And events you take part in.
These things help people find you, they show them that you're qualified for the work you want to do, and they give them a reason to want to approach you and hire you.
36 Ways to Build Your Freelance Writer Platform
Here are 36 ways you can start building, or improving, your professional platform today:
Set up a professional website and portfolio.
Start a professional blog on your business site.
Conduct original research and publish the results.
Give speeches at industry events or organizations.
Conduct seminars and / or webinars.
Offer an e-course.
Get published in trade or niche publications.
Publish e-books.
Write a book.
Have industry-focused op-eds or letters to the editor published in newspapers, magazines, or online publications.
Comment on blogs or websites in your niche or industry.
Write guest posts for other blogs.
Set up your own virtual publicity tour (reviews, guest posts, interviews, etc. over a week or so).
Write for a larger site, blog, or network regularly within your niche.
Launch your own niche website.
Actively pursue higher search engine rankings for increased visibility.
Solicit or make yourself available for interviews.
Release a white paper, or a series of them.
Start your own podcast series.
Be a guest on others' podcasts or radio shows.
Create a video series (can be good for tutorials).
Guest lecture at an educational institution.
Pitch a story concept to journalists offering yourself as a source.
Actively take part in forums, social networks, or other online communities.
Take part in joint promotions.
Publish (or allow others to publish) excerpts of longer books or e-books you've written.
Join professional organizations, and be active within them.
Create your own networking group or professional organization.
Offer an email newsletter.
If appropriate for your market, send out print newsletters.
Run direct mail campaigns.
Sell related products.
Give away free stuff.
Be actively and publicly involved with (or run) campaigns around issues that matter to your clients.
Serve on the board of companies, organizations, or institutions related to your specialty.
Become a sponsor for industry events and organizations.
You don't have to do all of these things to build a solid platform. It's about picking and choosing the right mix to attract your ideal target clients.
How to Design Your Platform-Building Plan
You probably already have a decent start to your professional platform if you've been in business for years, even if you didn't mean to build one. So start there.
Focus on your business website first.
Treat it as your hub. After all, its job is convert the attention of prospects into paying gigs. Ask yourself:
Is the copy on my professional site really conveying my expertise, or does it need work?
Am I giving prospects who aren't ready to buy immediately a reason to come back (like with fresh blog content)?
Is my site offering anything to prospects still on the fence that might make me stand out (like a white paper, or even a paid e-book as an entry point)?
When clients are searching for freelance writers like me, is my site ranking highly enough in search results?
What can I do to make my site not just a self-promotional digital brochure, but a true resource to my target prospects so I stand out among the competition?
That's a good place to start.
Then branch out into external platforms.
Are you using the right social media tools to reach your ideal clients, and are you sharing the right kinds of content?
Are prospects seeing your name in the normal places they frequent (industry publications, blogs, and communities)?
Do your prospects likely use YouTube? Do you have anything available there they'd search for?
Then move on to the bigger resources like:
books;
e-books;
original research;
creating separate niche sites;
developing an e-course;
hosting a webinar;
setting up a podcast series.
Then turn to broader campaigns, events, and community involvement like:
becoming a guest lecturer;
sponsoring community or industry events;
running direct mail campaigns;
engaging in other public speaking opportunities.
You know your strengths and weaknesses. And you know your specialty and target market. Build a platform plan around those things.
How to Profit From Freelance Writer Platforms
I mentioned previously that one of the benefits of having a writer platform is that it can bring in direct income in addition to (or in between) freelance writing jobs. Here are a few examples of how that works:
Books and E-books — You can make money through book sales.
Blogs — You can bring in blog income through traditional ads, affiliate promotions, or by promoting product sales (like your books).
Seminars / Speeches — You're paid to participate in the event.
Courses / E-courses — You can charge a fee for attendance or participation.
Original Research — When you conduct original research it makes you an authoritative source in your specialty area. You can earn directly from this by charging a fee for full research or survey reports (most appropriate when that research is truly comprehensive and important to prospects' business interests).
Freelance writer platforms won't make you an instant success. An effective platform takes time to build. But it doesn't have to take as long as some writers assume.
For example, when I first put serious effort into my professional platform it only took me three months before I had enough incoming gigs (without me pitching anyone for them) to regularly fill my schedule. Since that happened, I've never experienced the stereotypical feast / famine cycle of freelancing. Not even when one element of that platform takes a back seat (like search rankings slipping). When you take a holistic approach in building your platform, each element should complement the others, but also continue to work for you independently.
Building (and Maintaining) a Sustainable Professional Platform
Freelance writer platforms aren't one-off things. While it can take less time than constantly seeking out new gigs every month to keep your pipeline full, they still require some ongoing effort.
At a bare minimum that might include:
periodic updates of your client-focused blog;
remaining active on key social media sites;
sending weekly or monthly newsletters.
And you can expand your platform at any time with larger projects like publishing a relevant book.
When putting together your platform-building plan, just remember to keep sustainability in mind. You don't want to over-commit to ongoing outreach that eats into your billable hours so much that it ceases to be a benefit.
But also remember the benefits of a strong platform aren't just about direct gigs. It also impacts your broader professional reputation, visibility, and marketing  position, can lead to media mentions, can help you grow your network, and can lead to more product sales or email list sign-ups that can be used for more direct promotion later.
The most important thing when it comes to your professional platform is to get started. And if you haven't thought about yours in a while, audit its current status and see where you can improve. Ignoring it will do nothing but leave money and visibility on the table.