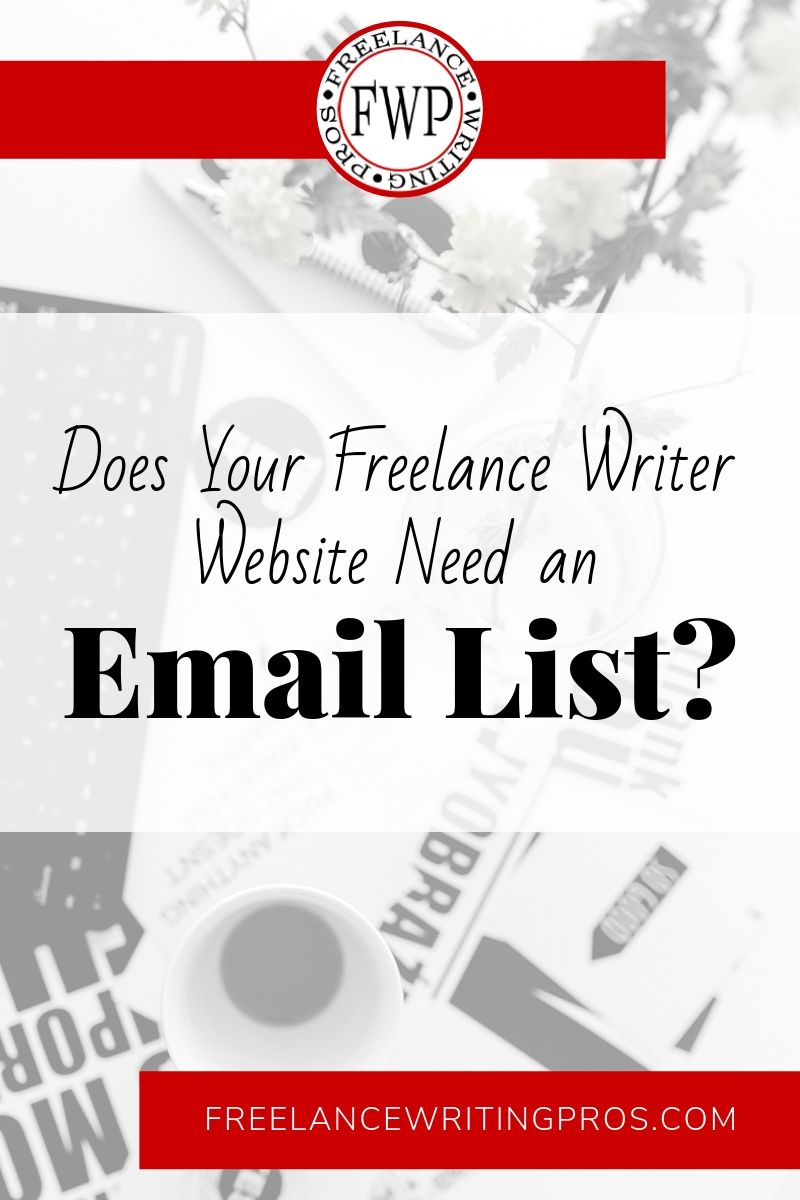 You've been in business for a while now, so chances are pretty good you have a professional website. But do you have an email list full of clients and prospects? And do freelance writers really need to build one?
Now some marketers will tell you it's always a good idea to build an email list for any kind of business. But general advice often isn't good advice. And it's best to consider your specific business, the types of services you offer, and the kinds of clients you target. So again, as a freelance writer, should you add an email marketing subscription form to your freelance writer website?
Well, it depends.
Why Freelance Writers Don't Need Email Lists
Now first, I'm not against email marketing. I've long had email lists for various blogs I own. This site has an email list. (Subscribe if you'd like weekly updates and subscribers-only content.)
When it comes to adding an email list to my own freelance writer website, I've batted the idea around for years. And I've opted against it for two reasons:
In my own case it's never been necessary. I get plenty of inquiries without it.
It's an extra commitment I'd have to make (when again, I don't really need to right now).
And those are the same reasons you don't necessarily need an email list either (unless you do… but we'll get to that in a moment).
First there's the issue of supply and demand. You aren't selling products. You're selling services that rely on your time. And you only have so many available billable hours.
That's one of the perks of freelance writing.
As long as you're charging professional rates, you don't need that many clients to keep your schedule full.
If you were selling products, it would make total sense to build a list so you could maximize sales. But with freelancing, you need to reach far fewer people to reach your sales goals. Building a list of thousands of subscribers sounds great. But it takes work. And you don't need thousands of prospects to keep yourself fully-booked.
This alone means freelancers don't really need email lists. They're about two main things: relationships and scale. There are plenty of ways to build relationships though. And freelancing isn't a game of scale.
The other issue is the time commitment.
Something I've long pointed out about marketing is that it doesn't matter if a marketing tactic works; it matters if it works better than your other options.
Just as you have a limited number of billable hours, you also have a limited amount of time to devote to marketing your freelance writing services. You want to get the most out of that time by focusing on the most effective tactics and tools available to you.
Think about how you already market your services. What works? What doesn't? Are you already filling your billable hours? Or do you need to add a new tactic or change things up?
If you do need to attract more clients, an email list might work. But will it work better than all other options available to you?
That depends what you're already doing.
It depends on who your target market is.
And what kinds of services you're selling.
And how you intend to use that email list (such as simply for direct promotion versus using it as a thought leadership tool to position yourself in a competitive market).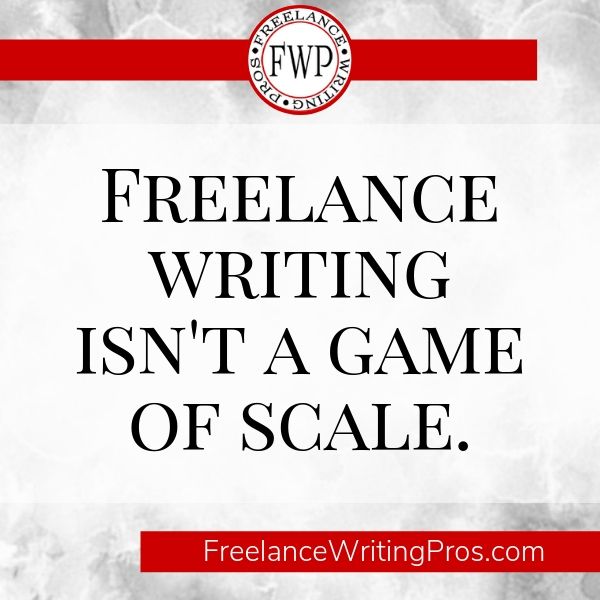 Managing an income-generating email list requires not only time, but consistency.
Before deciding whether or not an email list is a smart move for your business, ask yourself the following:
How do you plan to use the email list?
How often do you plan to send emails?
What length will that content be (how long will it take you to write the content or copy)?
How will you build the email list, and how much time can you devote to that?
Think about the time investment, not just in setting up a list and getting a form added to your freelance writer website, but also the ongoing time commitment.
Then think about other promotional tools and tactics available to you. Ask yourself a few more questions:
Which of those marketing tactics, including managing an email list, is likely to bring in the most paying work?
How long will it take to see a return on your time investment for each marketing tactic you're considering?
Would investing more time in an already-successful marketing tactic potentially yield better, or faster, results?
It can easily turn out that managing a new email marketing list will require a bigger time investment than other tactics that could bring about similar, or better, returns. Remember, you probably won't generate new business immediately. You have to build your list first. And that's a game of reaching critical mass. The time you spend building that list with little to no direct return is time you could have been spending reaching prospects in other ways.
Finally, there's the issue of conversions.
What do you want visitors of your professional site to do? Do you want to convert them into subscribers so maybe they'll buy something later? Or do you want to convert them into clients by getting them to contact you directly right now?
You can't count on converting site visitors in multiple ways on any given visit. So what do you want your site's copy focused on — promoting your email list or promoting your services?
Every page should have a goal. So for every page you'll have to choose.
Splitting your visitors' attention between multiple calls-to-action could hurt more than it helps (this is something I've seen with my own blogs that offer both email sign-ups and sales-directed CTAs — it's a balance you'll need to figure out for your own market).
Frankly, one of the biggest issues I've seen in reviewing freelancers' websites is the lack of CTAs to begin with. Check your own site, and start with adding or improving ones directed at making sales before directing visitors toward other actions.
When Email Lists Make More Sense
While I'd consider email lists far from a necessity for most freelance writers, there are cases where they can make sense in your marketing mix.
For example, you might not maintain a public list where you try to attract sign-ups, but you might keep a more private email list of past clients you've worked with for the sake of traditional relationship marketing and staying fresh on the mind of previous and current clients. Because relationships are so vital in freelancing, this kind of list might work very well for you.
You also might not sell only writing services. For example, if you also offer consulting of some kind, then thought leadership and promoting your authority status in your specialty area becomes more important. In that case, having some kind of ongoing publication can be a good idea, such as a newsletter or blog (where you make posts available via email without writing custom newsletters).
Or perhaps you sell a product to freelance prospects — a lower price point buy-in to acquaint them with your expertise and style. In this case you have a product to sell, and an email list could be a good way to promote those sales. Examples might be an e-book or a course.
And then, of course, there's the case where your current marketing isn't working and you do have reason to believe email marketing could be a more effective use of your time than other options available to you.
In any of those cases, adding an email list sign-up to your freelance writer website might make sense.
As with any kind of marketing tactic, don't follow generic marketing advice that doesn't account for the realities of running a freelance business. What works for other kinds of companies isn't always the most effective use of time for freelance writers.
Evaluate your options. Figure out what you are, and aren't, comfortable trying. Decide if you're willing to invest the time long-term. And only then can you decide if adding email marketing to your mix is the right decision for your freelance writing business.
---
This post was originally published on April 16, 2018 at All Freelance Writing. It has since been updated for Freelance Writing Pros readers.
---