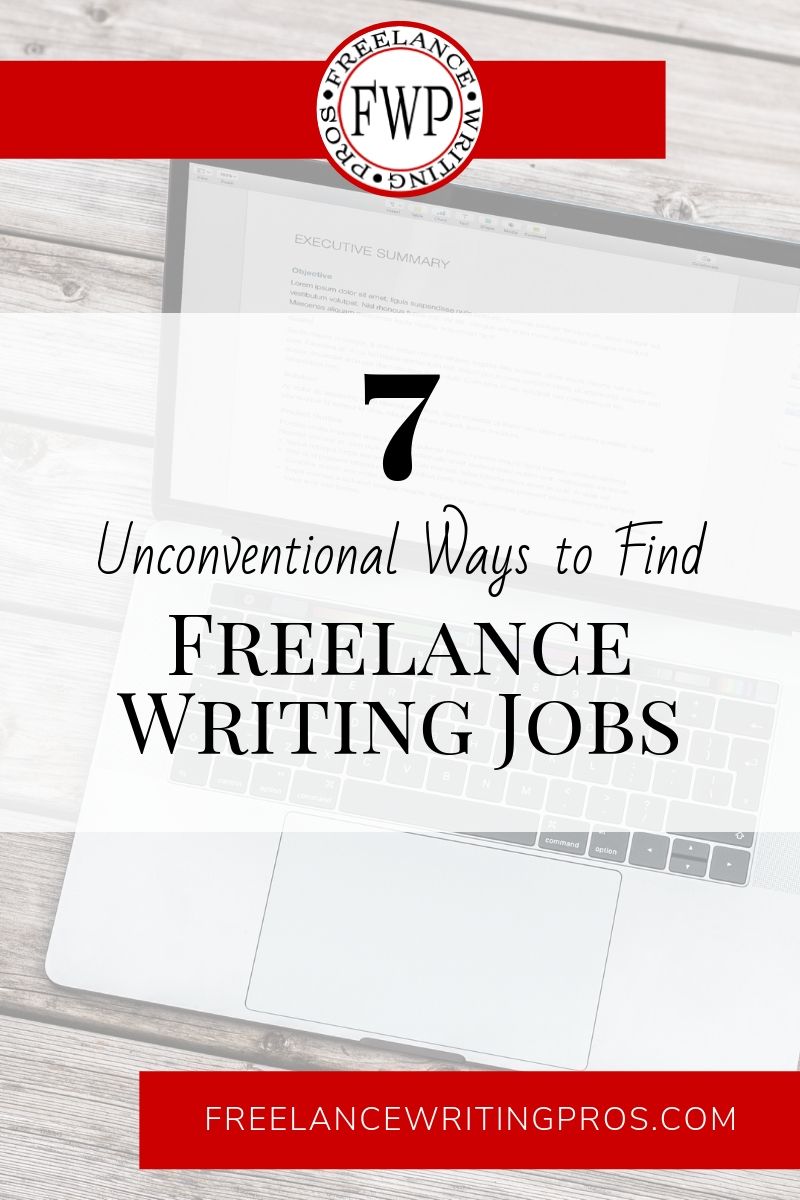 When you've been freelancing for years, you might settle into a routine. And sometimes that routine can lead to equally routine (read: "dull") gigs. When you want to add something new to your marketing mix, try one of these unconventional ways to find freelance writing jobs. You might just come across new clients or project types. And at the very least, you open more doors to new opportunities, letting you be pickier about the projects you accept.
While what I normally suggest is building a professional platform to help clients come to you (my "query-free freelancing" approach combining PR and inbound marketing), this list is about more immediate tactics you can add to your job search strategy.
1. Search for advertised editing jobs (full-time or freelance) that mention editors have to work with freelancers.
In this case you still use job boards, but you don't directly look for freelance writing gigs. Instead search for companies hiring editors (use the major job search sites for this, like Indeed).
When you find job listings for full-time editors, read the descriptions. You'll often see job duties listed there, including managing a team of freelancers. When you see that, you know that publication or business works with freelance writers. Add them to your pitch list if they're a good fit.
2. Find freelance writing jobs in "outdated" listings.
Here's another way you can get more from job boards — this time more from niche ones like the All Freelance Writing job board. Stop dismissing older ads.
Some freelancers won't respond to any ad more than a few days old. Doing that is like leaving money on the table. You could be dismissing ideal clients before you even talk to them.
The next time an older job ad appeals to you but you figure they've already filled the spot, reach out anyway. Send them a letter of introduction and a link to your portfolio. Tell them you saw the ad and if they're ever looking for someone for a similar position, you'd love to be considered. And tell them why you'd be a great fit.
I can tell you from experience in hiring positions (both in a traditional job and in helping some of my own clients in recruiting other freelancers), sometimes gigs just don't get filled. Clients get bombarded by unqualified applicants all the time, and sometimes they don't hear from a real gem right away. The gig could still be open. Or you might even stand out more by contacting them after the flood of other applicants.
Worst case, you make a new contact, add the prospect to your list, and follow up with them at a later time.
3. Find prospects in PR media directories.
Writers often turn to market directories (like Writer's Market or All Freelance Writing's writers' market database) when they want to pitch publications. But even the largest market directories for writers don't come close to the media directories PR professionals use. And if you're able to get your hands on one you'll have access to markets most other freelance writers aren't pitching yet.
If you aren't sure where to start, this list of PR directories from O'Dwyer's will give you a better idea of what kinds of directories are available. Or you start with a free media directory like Mondo Times. Just know that free options aren't always the most up-to-date, so do your own digging before addressing a pitch to a listed editor.
4. Offer incentives for referrals.
If you aren't getting many referrals from past clients, remember to ask for them. The issue isn't necessarily that your clients don't want to refer you to others. It just slips their mind.
You can take this a step further by offering incentives for referrals. For example, you might give existing clients a 10% discount on their next order if they refer another client who hires you. While I'm less a fan of this idea, some freelancers also offer a commission for referrals from colleagues so people in their network have an incentive to send leads their way. It's a sort of service-based affiliate system.
5. Get featured in others' email newsletters.
Guest posting on blogs is fine and dandy, but why not seek exposure in others' email newsletters too? I'm not talking about newsletters from other writers, but instead newsletters your ideal clients read.
One option is to purchase advertising in those newsletters. If you don't want to spend money, consider offering guest content for the newsletter. This content shouldn't be directly self-promotional, but rather it should position you as an expert in front of your prospects (tips, industry insight, and tutorials can all work). The idea is to get your name in front of the eyes of potential clients. And an inbox is a great place to do that.
6. Use products to promote your services.
You can also use products, like reports and e-books, to promote your freelance writing services.
You can either give these products away for free or sell them as an added income stream. Charging for the report gives you a nice entry point for people who aren't 100% convinced they want to part with more money to hire you yet (while still placing value on what you have to teach). A free report could be particularly helpful if you're hoping to build an email list of prospects.
What matters most is that your report or e-book gives prospects actionable information. That could be anything from industry insight from a survey you conducted to a tutorial teaching prospects how to do something you ultimately hope they'll hire you to handle.
This worked extremely well for me with a premium (then free) guide on how to write press releases. It brought in over $4000 in direct income, and well into five-figures worth of freelance gigs. The idea is to let prospects try their hand at it. They'll better understand what you do. And many learn to appreciate how difficult it can be to do the job right — leading them to hire a pro.
7. Use Twitter lists to build a prospect list.
Twitter can also be a great tool to find freelance writing jobs. And that goes well beyond job announcements you find in your feed or via search. Instead of tweets themselves, turn your attention to Twitter lists.
What you'll find are countless industry or niche-specific lists full of potential clients. And someone else already did the work of assembling those lists for you.
For example, let's say you write about technology and you'd like to pitch tech blogs. You'd want to find Twitter lists other users have put together featuring those blogs.
How do you find these lists? If you're familiar with a few big names in your niche or industry, visit their profile and see what lists they've been on. That should give you at least a few lists to start with.
Need more? You can search for Twitter lists using a custom Google search. The idea is to have Google search only Twitter.com, for items with "lists" in the page's URL. Here's how you would format your search if you were looking for lists of technology bloggers.
site:twitter.com inurl:lists <technology bloggers>
The results are lists full of technology bloggers who might be great prospects for your freelance query or guest post pitch.
I hope one of these less-used tactics helps you find freelance writing jobs you otherwise might have missed out on. If you have other interesting or unique gig-hunting tips that have served you well over the years, you can tell us all about it in the comments.
---
This post was originally published on January 25, 2016 at All Freelance Writing. It has since been updated for Freelance Writing Pros readers.