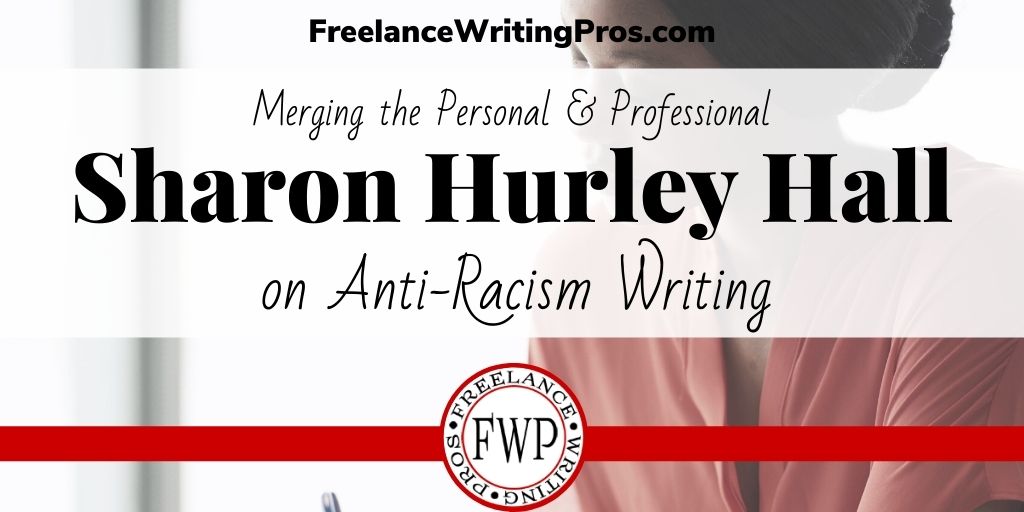 In your freelance writing career, there might come a time when you seek to change or expand your focus. We previously talked about how to change your target market without starting over. But sometimes it's not just about traditional business opportunities so much as being true to yourself, your voice, and using your professional platform in a more fulfilling way. Sharon Hurley Hall offers a great example of this in her adapting focus toward anti-racism writing.
You might already know Sharon through her writing for the freelance community or her professional blogging work. But while she began writing about her experiences with racism in 2016 ("Why This Man's Daughter is Afraid to Visit America"), and while she published Exploring Shadeism in 2018 about colorism in Barbados and the Caribbean, her prioritization of anti-racism writing came in response to the murder of George Floyd.
"That was it," Sharon said. "I had to speak out and I couldn't stop."
She published "I'm Tired (of Racism)," and the response helped her realize she had more to say. Then, with her and other Black voices being suppressed on social media, she took things a step further. Sharon launched her anti-racism newsletter in August 2020 not only to share her own thoughts on issues of race and racism, but to amplify the voices of other anti-racism writers as well. That newsletter launch was a success.
"I started [my anti-racism newsletter] from scratch, and announced the launch on Medium, LinkedIn and Twitter, where I already had people following my anti-racism writing. I also let subscribers to my old newsletters know (just once) to give them the chance to sign up. By and large, people were positive about the news, and I got my first hundred signups within a couple of days of launch."
In time, Sharon realized it wasn't enough for her to run her newsletter. She wanted to incorporate anti-racism writing into her freelance work as well (in addition to creating an anti-racism course and co-leading a related workshop and monthly allies group for Omnis School).
Sharon Hurley Hall on Her Transition to Anti-Racism Writing
Sharon was gracious enough to answer some questions about this transition in her professional writing work. Learn more about how she's incorporated anti-racism writing into her freelance work, the process she went through, and how you can do the same if it's time for a change in your own freelance career.
What influenced you to become an anti-racism writer?
As a Black woman who's experienced racism in several countries, I've always had thoughts about the topic. But George Floyd's murder made me write about the bone-deep weariness many Black people feel when being confronted – yet again – by racism.
Once I wrote the first piece, I couldn't stop. It was as if everything I'd bottled up over the years was coming out. And the response I got – from Black people who felt seen and from white people who were beginning to understand – convinced me that it was important to keep writing as my contribution to fighting racism.
While anti-racism writing is a newer focus for you in terms of your newsletter and workshops, you've written about racism before in your book, Exploring Shadeism. What kind of impact, if any, did that publishing experience have in your decision to pursue anti-racism writing more broadly?
I wouldn't say that Exploring Shadeism had an impact on that decision, but it did make me consider quite early on the possibility of publishing a collection of my newsletter articles. I'm hoping that book, which includes some unpublished pieces, will come out within 6-12 months.
How, if at all, has your anti-racism writing impacted your freelance writing career? Since introducing your anti-racism writing on your professional website, what kind of a reaction, if any, have you seen from existing clients and new prospects?
Here's the thing. If people see my site and decide not to work with me, I never know. I suspect that's happened a few times over the years anyway, either because of the color of my skin or because I charge pro rates, or both.
Since the end of 2020, I've been open about wanting to work more with companies with a social justice focus, or with those looking to create better content to support their diversity initiatives. This seems a good way to use my writing skills to make a difference, rather than just writing about marketing (though supporting Black owned businesses by writing about marketing is always an option).
But what has been interesting is that since I announced my changed focus, a lot of new approaches have come my way. I had my first paid anti-racism writing gig in December 2020, and since then I've done some corporate ghostwriting and some Black History Month content (which was actually for one of my old clients who thought of me when they saw I'd expanded my focus).
I've currently got a couple more projects in the pipeline. And the newsletter is also helping to promote my writing – a couple of the people who've approached me have found me there.
As we head to the end of 2021, this has become most of my freelance work, and by 2022, it will probably be all of it.
Tell us a bit about the practical or technical side of moving into a new niche not directly related to your prior freelance writing work. What were the biggest changes you had to make? Was there anything that required little change, or less change than you initially expected?
I didn't go all out at the beginning. I simply posted on LinkedIn in October or November 2020 that this was what I wanted to do. That brought me my first gig, and the confidence that this could work. Once that was live, I shared the heck out of it, because it was evidence that an external agency valued my work (to back up the newsletter articles).
The next step was to add some text about my new work to the About section on LinkedIn. I also changed all my social media banners to reflect both sides of my business (because I'm still doing B2B writing about marketing and business while I make the transition).
Next, I created a new entry for "anti-racism writer, activist and educator" and asked some of my LinkedIn connections who are also subscribers to recommend my work. I got a great response, which means people who check me out on LinkedIn can feel confident about hiring me.
Late last year/early this year, I added an anti-racism page to my website, where I highlight some of the work I'm doing, such as podcast appearances and events.
The next step was to divide my home page into two columns, one with the original copy, the other related to my anti-racism work. And in summer 2021, I finally made the switch to focus my whole business on writing and speaking about diversity, equity and belonging.
In terms of other marketing, I've simply continued sharing anti-racism articles and posting about issues that come up. I'm mostly active on LinkedIn and Twitter, and share newsletter content on Instagram.
It's working, too, because I'm not having to go looking for gigs; just as with my B2B writing, people are now approaching me for anti-racism writing.
What's the biggest challenge you've faced in tackling this new specialty as a professional writer?
One of the biggest challenges is in making the distinction for clients between what my expertise is, and what it isn't.
In other words, I sometimes get approaches from people looking for DEI (diversity, equity and inclusion) strategists. That's not my role for freelance writing clients (though I do cover that area for Omnis Education). My role is to help companies deliver the written content the strategist says they need.
And honestly, I'm long past the stage of trying to be all things to all people. In my experience when I encourage people to hire me for the things I'm expert in and find other people for the things I'm not expert in, they appreciate my honesty, and they come back when they have something that's up my street.
What's the most rewarding aspect of pursuing anti-racism writing, personally or professionally?
Professionally, knowing I'm helping clients avoid the pitfalls that they fall into when they don't have a Black person say "but wait…".
Personally, knowing I'm making a difference to people. This is most evident with the newsletter. When people share their own experiences in the comments, or say they've shared an article with their co-workers or family members and have had productive discussions about racism, then I feel I'm achieving my purpose, which is to do my bit to fight racism, one article at a time.
If you could offer one piece of advice to freelance writers looking to add or move into a completely new specialty, what would you tell them?
Go for it. Let your contacts know that you're open to a new specialty and have some examples to show prospective clients, even if they're on your own blog or website. Spread the message consistently and the work will likely find you.
Highlights from Sharon's Anti-Racism Newsletter
I highly recommend subscribing to Sharon's anti-racism newsletter. In it, she features stories about the various types of racism Black people face, discusses issues of racial justice you'll find in the news, and she features other anti-racism writers and activists to amplify their voices directly while helping subscribers find additional members of the Black community they can listen to, subscribe to, or connect with.
Here's a small selection of the content you can find in the anti-racism newsletter, starting with newsletters touching on current news around racial justice — the very kinds of topics that inspired Sharon to further pursue her anti-racism writing:
And here are some of Sharon's latest newsletters featuring her fellow anti-racism writers and activists:
You can learn more about Sharon and her anti-racism newsletter, and see more samples of past editions, in my previous All Freelance Writing newsletter, "Sharon Hurley Hall on Freelance Writing, Anti-Racism, and Lifting Up Fellow Writers." Or visit AntiRacismNewsletter.com today and subscribe so you never miss an update.