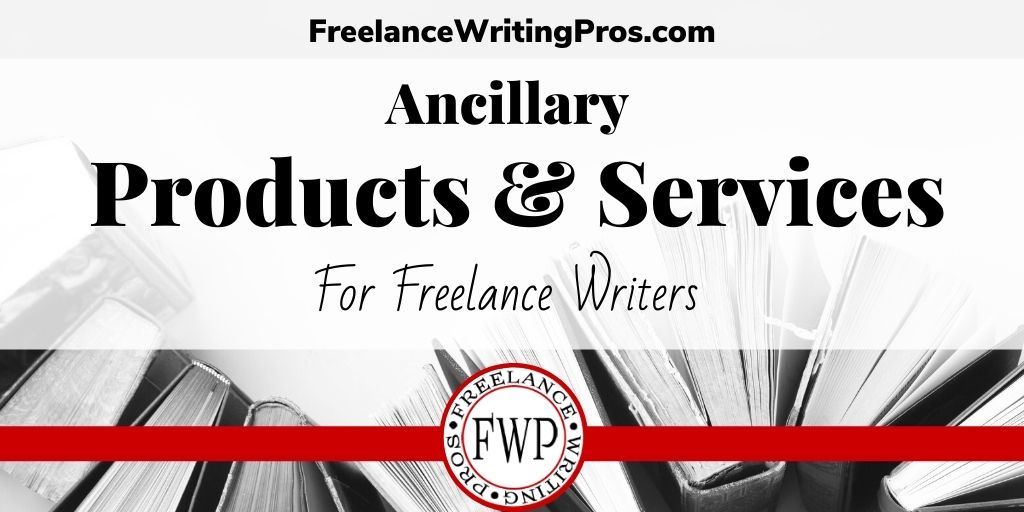 There are more ways than one to increase your earnings as a freelance writer. You can raise your rates. You could target a new market that's more lucrative. Or you might create ancillary products and services.
Let's explore ancillary products and services that might complement your freelance writing business, and why introducing one or more could be the financial boost you're looking for.
What are Ancillary Products and Services?
Ancillary products and services are secondary or complementary things you sell in addition to your primary product or service.
For freelance writers, these might be add-ons included in your freelance writing contracts.
They can also be products and services of interest to your target clients that are sold separately from your freelance writing services.
Why Diversify Your Income with Ancillary Products and Services?
Here are some of the reasons adding ancillary products and services to your offerings can be a good idea:
Ancillary products can become passive income
Related services can help attract freelance writing clients.
Offering related services can also increase income within an existing client base.
Your ancillary products can double as marketing or PR tools by showcasing your subject matter expertise.
If you see a slowdown in freelance writing work, ancillary products and services can help fill those financial gaps.
Building a collection of ancillary products and services gives you more long-term career options by helping you build a wider audience, a more prominent professional reputation, and an established presence in markets you might later want to prioritize.
Now let's look at some specific examples.
Ancillary Products for Freelance Writers
Here are some common examples of ancillary products that could complement your freelance writing business:
Books & E-books
Could there be a more natural product for a professional writer to release than a book?
In the case of publishing books or e-books as ancillary products for your freelance writing business, the key is who those books target.
For example, unless you freelance as a fiction ghostwriter, novels wouldn't make sense as ancillary products.
What would make sense for a freelance writer to publish?
Consider writing nonfiction books or e-books that would appeal to your target freelance writing clients.
That might include books that brand you as a subject matter expert in a niche you specialize in.
You might also write instructional books like a book on corporate blogging if you work as a freelance blogger for those types of clients.
Should you follow a traditional or indie publishing path?
I'm a big fan of indie publishing – the professional variety, which is different from vanity publishing and a lot of what's branded as self-publishing these days.
A great example of a freelance writer engaging in professional indie publishing is Peter Bowerman with his Well-Fed Writer (aff).
What is "professional indie publishing?"
When I say "professional indie publishing," I mean you aren't simply writing a manuscript, reviewing it yourself, and putting it online for sale.
There's a place for that, and it might make sense with a short e-book or guide.
I did this early on with a short press release guide I wrote in a weekend, put it up for sale online for just a little more than a year, did minimal promotion, and it brought in thousands of dollars in sales and over $50k in direct freelance contracts as a result. It can work.
But there's a big difference between these kinds of guides and a book that will reflect on you professionally for years to come.
What does "professional indie publishing" look like?
For anything more substantial, the professional indie route means working with qualified editors, proofreaders, designers, and others who can help you create a product equivalent to that of the best traditional publishers.
Whether you work with a printer or use POD (print-on-demand) options isn't as relevant as it once was as POD technology has improved.
But basically, any aspect of publishing where you can't do a pro-level job yourself or are too close to the work (like editing), work with fellow freelance pros to create the best book you can.
Yes, that means it requires investment. So consider how much a book could boost your reach and professional image before deciding if it's a good plan for you.
Online Courses
A good way to attract freelance clients is to teach them about the work you do.
Show prospects what's involved in your projects, help them try for themselves, and build a new appreciation for what a pro brings to the table.
You could do this through a book or e-book. But another option for an educational ancillary product would be to release an online course.
What can you teach?
Let's say you specialize in writing case studies.
You could launch an online course teaching people the basics of writing case studies themselves.
Perhaps your expertise is in writing press releases.
Consider creating a course about building media lists and handling press release distribution (especially if you don't take on distribution for your clients).
In this example, you could even give a free copy to your press release writing clients as a value-add.
What options do you have for building an online course?
If you use an email marketing service, you can set up a simple email course using a drip campaign.
This is when someone subscribes, and your lesson emails automatically get delivered to them on a set schedule such as one lesson per day.
Another option would be to join a third-party site that hosts courses from many creators. Udemy is one example. I don't recommend this option, but it's something you can look into to decide if it's a good fit for you.
My preferred option is to host a course on your own website.
This could be on your professional site or on a branded site of its own where you can then cross-promote it on your client site.
This can be done using a learning management system – LMS – like Moodle (open source) or LearnDash (which works with self-hosted WordPress).
Premium Content
Another type of ancillary product you could use to boost your income is premium content.
This is content that goes beyond whatever you offer for free on your client-facing site.
As I put more focus on my publishing work this year and cut back on freelancing a bit, this is a big change coming to my professional business writing website. I'll use the reach and connections I already have there to serve my prospects in different ways even when I can't take on their projects.
What does premium content include?
In my own case, I'll release several premium guides or e-books (likely short and project-specific). There will also be premium content add-ons coming to complement blog posts (like premium templates).
But there are other types of premium content to consider.
Membership Sites
A common option for offering premium content would be to set up a membership site.
To be honest, I'm not a huge fan of these, and I've seen them do more harm than good in the freelance writing and digital marketing communities in particular.
For a client-focused premium content option, membership sites won't always make sense because they require an audience scale well beyond that of a typical freelancer's professional site.
That said, if there's a need you could fill related to your subject-matter expertise, and you think a membership site could help you raise your profile and attract new clients, it might work for you.
Just know that running a membership site means committing to managing it and likely creating new content on a regular basis, no matter how many (or how few) members you have at any given time.
Another option growing in popularity might be a better fit for freelance writers though – premium newsletters.
What are premium newsletters?
This is where you run an email newsletter and charge for subscriptions.
You might have a fee for all subscribers.
You could have a free subscription option and ask for people to contribute to keep it running.
Or you can run a free newsletter to build your membership numbers and offer premium bonus content to paying subscribers.
In the end, the idea is the same. All, or at least some, of your email list subscribers will pay to receive your content.
How can you launch a premium newsletter?
You can use third-party tools like Substack or Twitter's recently-acquired Revue to launch your own premium newsletter (though I strongly recommend against it).
What I do recommend is using a more traditional email marketing service. Then you have more control and the ability to export campaigns and subscriber lists between services easily as-needed.
For example, you could run a paid newsletter through ConvertKit.
I currently use MooSend for email newsletters (though I'll likely change services in the near future). I don't offer premium ones at this time, but here's how I'd handle it if I wanted to.
The way I would set this up would be to add a custom form to my WordPress site using the Formidable Forms Pro (aff) plugin which would allow me to collect payments and only pass subscriber info on to my email list when a payment is verified.
(Note: You could do this with any form plugin that integrates with PayPal or another payment processor. I'm a long-time user of Formidable Forms Pro and use it to manage other income-generating aspects of my sites, like the freelance writing job board and freelance writer directory at All Freelance Writing. So it makes sense for me to keep payment-oriented forms consistent.)
This is a more complicated setup, but you don't have to worry about your email service taking a cut of your revenues or suddenly springing policy changes on you that affect your premium content or ability to move.
Ad-Supported Websites / Content
Another way to monetize content you create when you aren't freelancing is to tie it to ad revenue streams.
You could use an ad network like Adsense (which still monetizes very well in certain niches once you know what you're doing).
Or you can take a more direct approach.
For example, you might build content around affiliate programs.
What are affiliate programs?
When you join an affiliate program, you get paid to refer your readers to a business. If your readers make a purchase (or in some cases sign up for a trial), you'll be paid.
Affiliate ads can be a good option if you don't get enough visitors yet to earn through ad networks.
A bonus is that you hand-pick which products and services you promote.
I have a strict policy on my freelance sites in particular (like this one and All Freelance Writing) where I only promote affiliate products I currently use or have used in the past and feel comfortable recommending.
You'll even see affiliate links in this post — to my email marketing service, a book, and a WordPress plugin.
That wouldn't be viable in every niche, but the standards you set are your own.
Make sure that if you, or the people running the affiliate program, are based in the US that you follow all FTC disclosure guidelines. (Tip: Adding a disclosure to the end of your content is not enough. It wouldn't meet the "clear and conspicuous" requirement.)
Don't forget about direct advertiser relationships.
Affiliate programs aren't your only option to directly monetize your content through advertising.
Also consider selling ads in your content privately. A good option might be selling sponsored content or branded content.
Despite these two terms often being used interchangeably, they're not the same thing.
Branded content can be a type of sponsored content when it's published on a third-party site. But it can also involve a company publishing its own branded content sources (like a magazine or newsletter).
Sponsored content is not always branded content.
It can be. For example, a company might submit an article to a blog about their product and pay for its publication. This would be sponsored branded content.
But sponsored content can be more than taking payments to publish what amounts to guest content.
What might be more appropriate sponsored content for you as a freelance writer would be allowing advertisers to support your existing or new content through sponsored blog posts. But they would have no editorial input.
Let's say your professional blog is on the topic of writing landing page copy.
You might publish sponsored reviews. Companies can pay you to review their landing pages on your blog for the benefit of your readers.
It's a way for them to guarantee their site gets your time. It should in no way influence what you say about their copy. They shouldn't see it or "approve" it in any way prior to publication.
You could also accept relevant sponsorships for previously-published content.
This would involve payment for a link associating a company with you and that article.
For example, if you wrote a post about blog management for your target clients, you could get a sponsorship from a domain registrar or web hosting company – both being businesses relevant to launching and managing a blog.
In all of these cases, it's important that sponsorships are clearly disclosed (again, this is due to FTC disclosure guidelines, but it's also just good professional ethics).
You'll also want to tag any sponsored links as rel="sponsored" or rel="nofollow" as accepting payment for dofollow links would run afoul of Google's paid link scheme policies. This could get you or your sponsor penalized in search results.
Ancillary Services for Freelance Writers
Ancillary products can be a good way to generate relatively passive income to supplement your freelance writing earnings. But you can also add ancillary services.
Ancillary services won't bring in passive revenue, but they can be a good way to earn more while freelancing.
These are simply other services related to your freelance writing that you could package with your writing services or even offer separately to the same target market.
Let's look at some examples.
Editing
You might be offering this ancillary service already.
For example, in addition to offering copywriting services, you might take on copyediting work where you improve a client's existing copy rather than starting from scratch.
A favorite editing service of mine is working with non-native English speakers who want to target a US market with their own products or services.
They generally have base copy written. Sometimes the overall message and structure is quite good. But to appeal to their target audience, it needs to be cleaned up to sound more natural.
Content Strategy
Another common ancillary service freelance writers offer is content strategy consulting.
This is where you help a client build a blog content strategy, thought leadership content strategy, or broader content strategy around their overall marketing or PR goals.
This can include planning out monthly content themes, putting together a detailed editorial calendar, and even planning a social media content strategy and schedule.
It's not just about scheduling though.
Content strategy consulting also involves helping your clients understand who their target readers are and what kind of content will best appeal to, or influence, them.
It can also involve helping clients create their own internal style guidelines.
In reality, content strategy consulting usually involves some mix of these projects.
Blog / Publication Management
If you're a freelance blogger, blog management might be another ancillary service worth considering.
This is where you go beyond writing content for your client's blog. You would take on anything from content strategy to routine blog maintenance.
While I don't often do this anymore, I used to serve as Editor-in-Chief for client blogs, overseeing everything from content strategy and comment management to hiring other freelancers and editing their contributions. I've even taken on light development and design improvements, occasionally building and designing client blogs from scratch.
If you have strong design and web development skills, your options are wide open here.
This can be a lucrative ancillary service because you can bill on a monthly retainer basis and these clients tend to be ones who stick around for a while.
SEO / Content Promotion
Do you write a lot of online copy or articles? If so, someone has to promote that content and get it in front of the right readers. Maybe that someone can be you.
If you have a strong grasp on search engine optimization (SEO), you could offer consulting services to new clients, helping them improve on-site SEO for their archived content while you help them create new pieces.
Other content promotion services might include link-building, writing corresponding email newsletters clients can send to promote new content, or writing social media updates to promote new and existing content.
(Note: Being asked to promote their content on your personal accounts is not OK).
Other Consulting Services
Think about what other ancillary consulting services your current freelance writing clients might need. Then decide if it makes sense to offer them.
For example, my professional background is in PR, marketing, and new media (social media and digital publishing). So I've long offered services in these areas to the same clients who hire me to write for them.
Do you have subject matter expertise related to your clients' industries? If so, consulting services might be a perfect way to boost your freelance income.
Sometimes increasing your freelance writing income means looking beyond freelance writing itself. You already have a network of clients and a platform that can attract more.
Ancillary products and services help you monetize the prospects you don't have time to take on (such as letting them buy your books). And they can help you turn routine freelance contracts into something much larger.