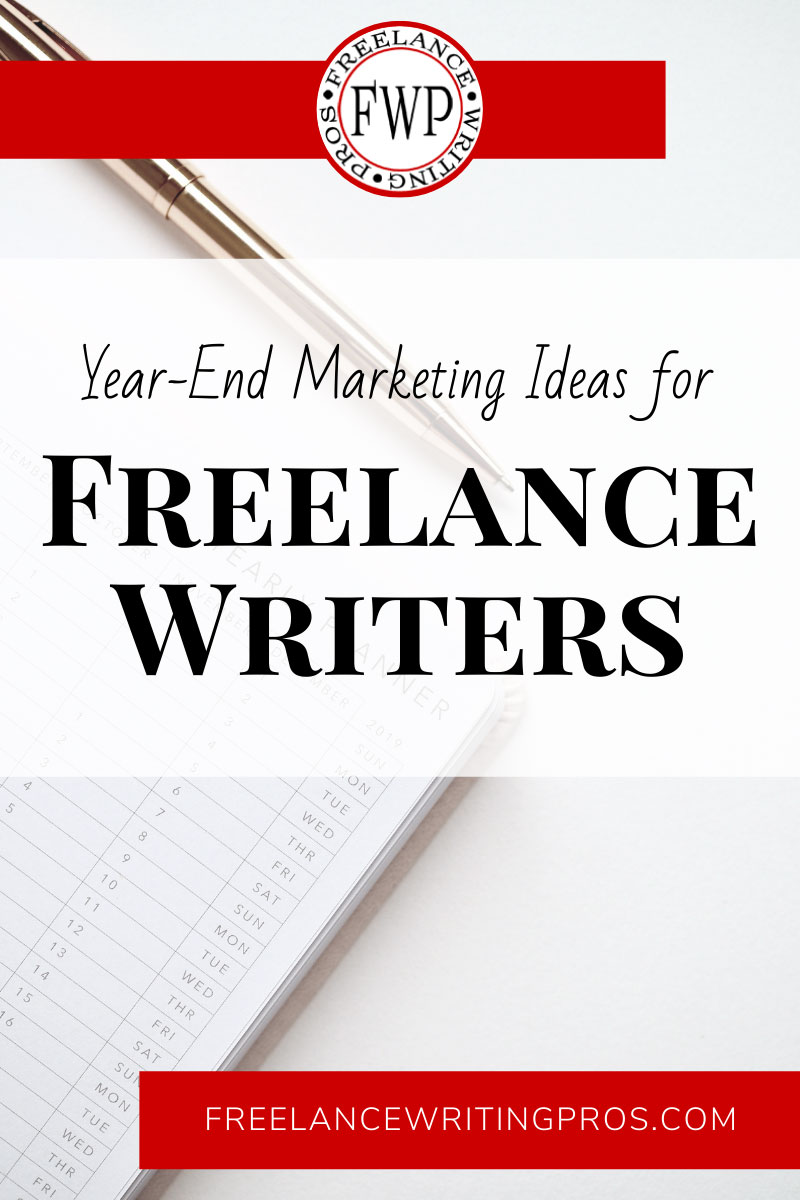 Now that we're well into the final quarter of the year, it's a great time to think about our year-end marketing efforts. You have the basics of course, like reviewing your general marketing plan and updating it for next year. But let's also look at some specific tactics you can use to not only finish this year strong, but line up work for January.
Here are some advanced year-end marketing ideas that can help you line up even more freelance writing gigs.
1. Say "thank you."
I have to give credit where it's due here. This one's inspired by Cathy Miller of Simply Stated Business who's been known to send out lovely year-end cards to colleagues. While it's a simple thing to do, consider reaching out to clients in a similar way before the New Year.
It doesn't have to be a card. A simple email thanking clients you've worked with in the past year can be a subtle, though effective, marketing tactic. Just because it's easy to do doesn't mean it can't help you shine. You can bet most of their other contractors aren't doing the same. It's a quick way to put yourself back on former clients' radar.
This is also a good time to figure out any vacation time you'll be taking around the holidays. Contact clients to update them on your schedule. Sometimes all it takes to create urgency is reminding them of when you won't be available. In my case, I take 2-3 weeks off every December. I usually let clients know the exact dates anywhere from mid-October to early November. And there is always a flood of orders. You'd think I was going to be away for months.
2. Be mindful of year-end client budgets.
If you work with clients — especially corporate clients with department budgets — try to get a handle on their budget cycle. If they operate on a calendar year rather than a different fiscal year, they might have budgets available to use up in the last quarter. And in some cases, not using that budget can mean seeing it slashed in the following year.
Not only does that make it the perfect time to reach out and pitch new projects, but it's also an opportunity to line up work for January. Give those clients the option of paying in advance for January orders they place now, getting them worked into this year's budget on their end while giving your own yearly earnings a boost.
3. Release a year-end marketing freebie.
Go a step beyond a simple "thank you" email, letter, or card. Develop a free resource your clients would find valuable, and send it to them as a year-end gift. You can also release it publicly on your professional site to attract new prospects.
What might you release? 
A white paper or report
An e-book
A worksheet or tip sheet of some kind
It does't have to be anything particularly long or complex. But make it actionable when possible. And if you can make it timely, all the better. For example, you might release a short guide on editorial planning for the new year tied to your specialty or the kinds of clients you work with. It gives them something useful to their business. And as a bonus, it serves to promote various project types they can hire you to help with.
4. Work out a thought leadership publication plan for the New Year.
Having a general marketing plan is a great first step. But now is a good time to take it to the next level by outlining more specific strategies. For example, if you want to be seen as the writer to hire in your specialty area, you might want to work on a thought leadership publication plan to help you stand out.
This involves more advanced publication strategies than simply publishing a blog with quick tips for clients to improve your SEO. This is about positioning yourself as a market leader, demonstrating your expertise, and making prospects trust you before they hire you.
What might your thought leadership publication plan include?
Original research and reports
Industry-focused white papers
Guest contributions to high-reach trade publications your target clients read
A nonfiction book your target clients would want to read
Op-eds around news affecting the industry your clients specialize in (if that's the kind of specialty you chose)
Remember, being a thought leader isn't about publishing more than everyone else. It's about having something unique to say and being able to not only tackle the big issues but get others thinking (and talking) about them as well. It's about your ideas, not just repeating what already exists.
5. Plan for holiday promotions.
Has your schedule been a bit empty lately? A holiday promotion could give your schedule the kick it needs. This might mean a sale for new clients (or only for repeat ones). But if you're anti-sales, it could also involve offering some kind of added bonus for year-end orders, or a discount based only on referrals from existing clients so you get more out of it than you lose to a discount.
It's also a great time to think about your clients' holiday promotions. If they tend to offer holiday sales of their own, now would be the time to reach out to see if they need any help preparing for them — a new landing page, email marketing copy, etc.
These are just a handful of year-end marketing tactics you can use between now and the end of the year to either boost this year's income or get you off to a strong start in January. If you have a favorite holiday or end-of-year marketing trick up your sleeve, I'd love to hear about it in the comments.
---
This post was originally published on December 26, 2014 at All Freelance Writing. It has since been updated and expanded for Freelance Writing Pros readers.
---