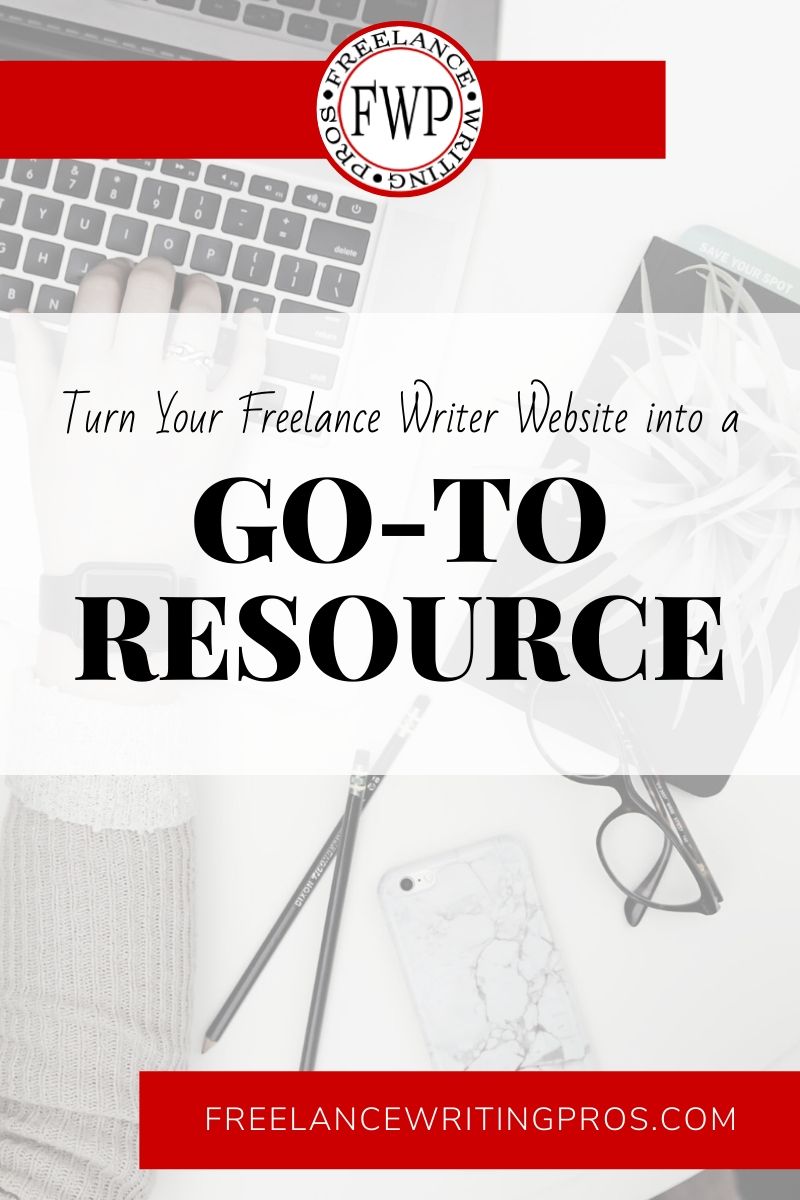 Years ago, you could have a brochure-style professional website and still expect to land a reasonable number of clients with it. But over time, things have changed.
Websites aren't just things you point to from your business cards or add to your letterhead anymore. They're direct lead generators in their own right. And they have to contend with far more competition.
These days your freelance writer website shouldn't just be a static advertisement for your services. If you want it to attract prospects through search engines or help you build a reputation that leads directly to more (or better) writing gigs, your professional site should be a valuable resource in its own right.
Your professional website has a few key goals:
Attracting warm leads
Converting leads into clients
Keeping clients coming back for more (or bringing prospects back if they aren't ready to buy right away)
Your freelance writer website can attract warm leads through better SEO. Its ability to convert depends in large part on your copy. But perhaps its most valuable role is to keep your name in front of prospects by convincing them to come back over and over again.
That's what we're going to look at more today: turning your site into a go-to resource that attracts more than passerby prospects.
Why You Want Your Professional Site to Serve as a Go-to Resource
Why does it matter if prospects and clients have a reason to keep coming back to your website?
Here are a few reasons why you would want this as a freelance professional:
Not all prospects are ready to buy the first time they come across your site.
Keeping your name in front of prospects and existing clients is an easy way to build more trust over time.
You want existing clients to see service updates, special offers, and other marketing messages.
Let's look at each of these situations in more depth.
Repeat Exposure Equals More Opportunities for Conversion
When it comes to prospects, they're going to come across your website in different ways. They might hit your home page first after being linked there by another site. Or maybe they'll land on a specific service page after a Google search. Or perhaps they'll come across one of your blog posts someone shared on social media.
Prospects don't all have the same initial experience on your site. That means they're going to see different information, different copy, and different calls-to-action.
What a prospect sees on their first visit might not convince them to hire you immediately. And you can't guarantee they're going to navigate around your site looking for a page that will convert them.
In many cases that prospect will simply leave your site.
Maybe your rates seemed too high at first because they don't know enough about you to justify that cost to themselves (or their boss) right away. Maybe they were on your site to compare you with your competition, left to explore other options, and never got around to coming back. Or maybe you site just didn't do anything for them. After all, your site exists to serve its visitors' interests, not just yours.
But what if your site does offer prospects a reason to come back?
When you turn your site into a go-to resource, it means you'll have another chance to convert them into a paying client. You might even have many chances. When you give visitors an incentive to dive deeper into your professional website, they're more likely to come across something that persuades them to hire you.
It's not only about the conversion potential though.
Repeat Exposure Also Impacts Trust
Professional trust isn't something typically earned with a single contact. It's a prospect's repeat exposure to you and your work that ultimately positions you as an expert and professional (worth paying handsomely) in their minds.
Bylines can play a role in this if you happen to appear in numerous publications a specific prospect happens to read regularly. But your site is an even more reliable way to generate this kind of authority-driven repeat exposure.
When your professional site gives prospects and clients a reason to keep coming back, your name is in front of them more often. Your work is in front of them more often. And you have the opportunity to be helpful, and leave a lasting impact, more often. These also help build trust and position you as the writer a prospect will want to hire as soon as they're ready (or keep coming back to if they're already a client).
Your Freelance Writer Website is Also a Communications Tool
Static brochure-style websites don't work as well as they once did because visitors have different expectations. They expect updates of some kind. And this makes your professional site an ideal communication tool when you can keep clients coming back.
For example, let's say you have a slow-down temporarily (maybe a big client went under or you're coming off a slow marketing effort). You post to your blog that you have an opening, or maybe you update an interactive availability calendar on your site. If people aren't visiting your site, they're not going to notice or feel driven to suddenly contract you for a project. When they visit your site more regularly, there's a better chance they'll see this and jump to take advantage of an unexpected opening.
As another example, let's say you decide to launch an email newsletter to give you more direct access to prospects. You put a sign-up form on your site, but no one seems to be subscribing. Had you given clients and other visitors a reason to keep coming back, they'd see your new list and you'd have an easier time growing your subscriber numbers.
Finally, let's say you decided to launch a new freelance writing service. You added copy to your site to reflect that. But your regulars don't notice because you never give them a reason to visit your site once they're working with you. Sure, you can call or email all of them. But that's unnecessary work when a resource-oriented site would get eyes on your updates for you. Besides, they might not need that service when they hear from you directly. But maybe they would a month from now when you're no longer actively promoting it as something new. If your site was one of their go-to resources they visited regularly, there's a much better chance they'd see that information when they need it.
How to Turn Your Website Into a Go-to Resource
Not sure how to include value-added resources to keep prospects coming back to your freelance writer website? Let's look at some example content types you could use. You don't need to use all of them. Pick and choose what you think will appeal to your target market the most.
Consider including:
An industry-focused blog that benefits your prospects' businesses;
White papers;
Industry reports based on original research;
E-books (free or premium);
Other downloadable resources like worksheets, checklists, and templates;
Interactive online tools (like a relevant calculator);
Case studies that demonstrate what better content or copy can do for businesses like theirs;
Courses (to teach prospects something they consider valuable);
Webinars;
An email newsletter that drives prospects back to your site.
In the end, what makes your site a go-to resource is providing content or tools that helps your ideal clients in some way. Introduce them to the basics. Teach them how to do something. Give them the tools they need to see a real change. Then be ready to help them take things to the next level when they're ready to hire a freelance professional.
Learning From Our Fellow Freelancers
Most freelance professionals' website are focused on the services they provide (mine included). But if this isn't working well enough for you and you want to build more demand than you can handle, focus more on your prospects. Developers and designers are often very good at this, building sites around their expertise, offering advice and tips, and showcasing their work. Then they have a page or two dedicated to pitching their services for those who need something more.
That strategy won't work for all freelance writers. But if you have a specialty based either in a limited industry or niche, or in a particular project type, it could be the move that sets you apart. For the rest of us, we can still learn from their example by introducing more resource-oriented content to our existing sites to keep prospects and clients coming back for more.
By turning your website into a go-to resource for prospects that benefits their businesses on a regular basis instead of only focusing on yours, you have a better chance of converting those prospects into clients. You'll also open the door to extra income streams to help fill in the slower times or serve as bridge products and services between prospects finding you and being convinced to hire you. Even better, by staying top-of-mind with your existing clients,
---
This post was originally published on January 13, 2015 at All Freelance Writing. It has since been updated and expanded for Freelance Writing Pros readers.
---